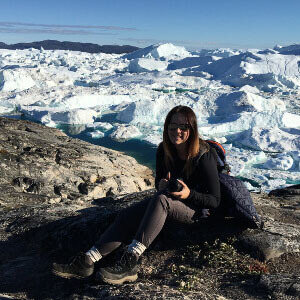 Holly Park
Sales & Content Development
From a young age travel has played a major part of Holly's life. Having family and friends all over the world and also having lived in Belgium for 12 years herself, she is used to being on the move. Holly's first trip to Norway and Sweden in November 2015 sparked a love for the Aurora and it's Arctic wildlife! She is our resident whale expert and is helping to find and create new and exciting whale watching destinations and products for our customers. Having seen Killer whales in Tromso, humpbacks in Greenland and hundreds of Dolphins in the Azores she has definitely caught the whale-watching bug! She is now looking forward to her next adventure in Svalbard to search for Polar Bears and Blue Whales!
Holly also works on the website creating amazing itineraries with the newest and most exciting new products & content for our customers by way of blogs and interviews.
Best Hotel
Funken Lodge in Svalbard. Incredible setting, beautifully renovated, a top-quality restaurant AND a champagne cellar? What's not to love!
Best Restaurant
Emma's Dream Kitchen in Tromso. Amazing food and beautiful setting in the square overlooking the church. The restaurant is split on 3 levels but each is really quaint and authentic. Did I mention it was delicious?!
Best Experience
Hiking along the coastline of Qeqertarsuaq in Greenland where you can walk along the amazing cliff edge watching the icebergs float past and the humpback whales breaching or bubble netting below! Ice rally driving in Arjeplog is also a pretty big contender!
Where has Holly travelled?