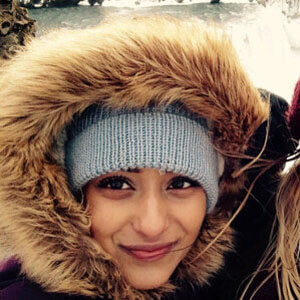 Shivani Patel
Adventure Artist
Shivani loves the outdoors, discovering natural wonders and experiencing new cultures. Coming from a design background she enjoys getting to know our clients so that she can create the best itinerary for them. Her love of travel has taken her around the world; from sightseeing across Europe to diving in the Philippines and bushwalking in Australia. A trip to Iceland in 2015 sparked a fascination with the Northern Lights and she loves to share this passion by creating customised Aurora experiences for our Off the Map guests.
Best Hotel
If you are looking for a city break, Hotel Kungstradgarden in Stockholm is a personal favourite of mine! With a stunning location and elegant historical details from it's 18th century restoration, it is the perfect stylish escape within this beautiful city! As a unique stay, you can't get more special than the Aurora Safari Camp!
Best Restaurant
Hemmagastronomi in Lulea. There is a cosy food bar area with amazing tasting dishes as well as a deli which is amazing. The evening menu is really seasonal and uses local and fresh ingredients.
Best Experience
In the winter it would be a Rib boat safari around the fjords in Tromso. It is an amazing opportunity to see the local wildlife and the amazing scenery. In the summer I would still choose a boat trip but this time around Lake Como in northern Italy!
Where has Shivani travelled?
Shivani's top destinations