This trip has you spend a night in Helsinki before then heading up to Finnish Lapland and staying at – Wilderness Hotel Juutua.
The hotel is part of a group of hotels, which includes its sister properties such as Nangu, Nellim, Inari and Nangu – all of which can also be arranged by Off the Map Travel – guests will be staying in a cosy River Suite and keeping an aurora alert handy in anticipation of the highly sought-after northern lights. In addition to a range of fantastic activities to choose from, guests can also consult with our team to explore other potential options for their stay.
Trip Includes:
Accommodation

Excursions

Transfers

Full Board at Wilderness Hotel Juuta
© Wilderness Hotels & Safaris
Arrive into Helsinki
Get an early morning flight into Helsinki – then start your day by visiting the iconic Helsinki Cathedral and taking in the stunning views from its steps. Then, head to the bustling Market Square to try local delicacies and browse through the handicrafts. Next, take a stroll through the picturesque streets of the Design District and visit the famous Temppeliaukio Church, a unique church carved out of solid rock. With these stops, you'll get a great taste of Helsinki's culture, architecture, and natural beauty before then spending the night in the fantastic Hotel Kamp.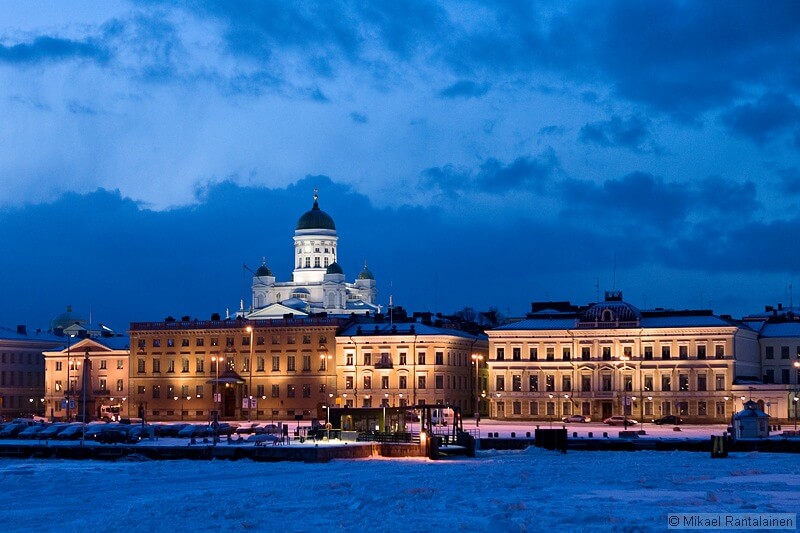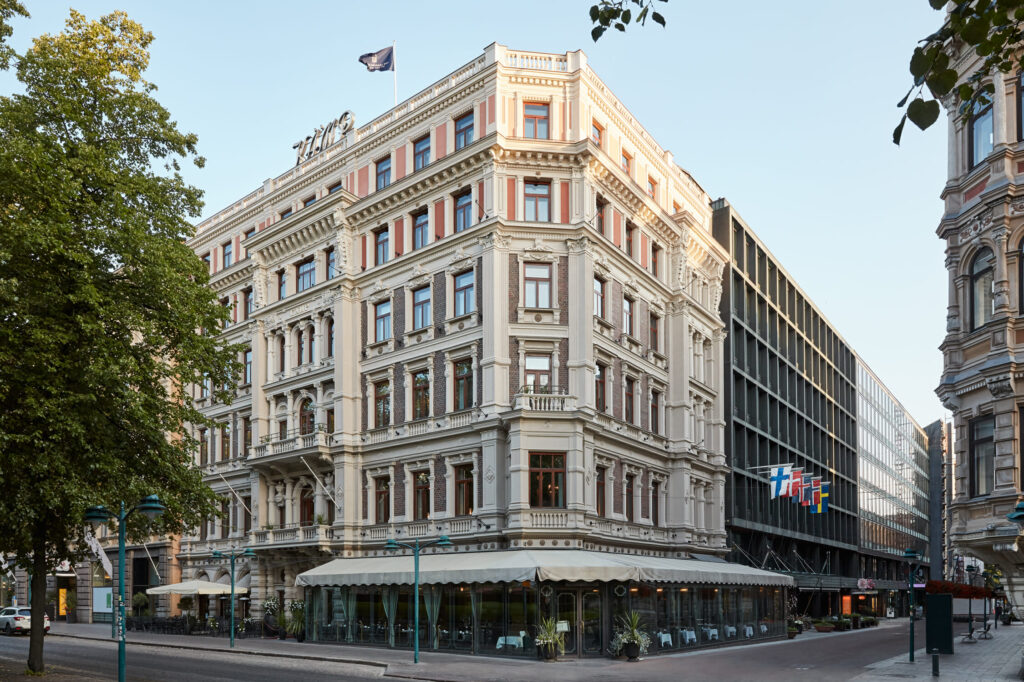 Welcome to Wilderness Hotel Juuta
Check out from your property in Helsinki and take a flight from Helsinki airport up to Ivalo.
Transfer from Ivalo airport to the beautiful location of Wilderness Hotel Juuta. The hotel is a charming retreat located in the heart of Finnish Lapland. Nestled in the pristine wilderness of the Pallas-Yllästunturi National Park, the hotel offers a true Arctic experience for nature lovers and outdoor enthusiasts. You will check into your River Suite which will be your home for the next four nights.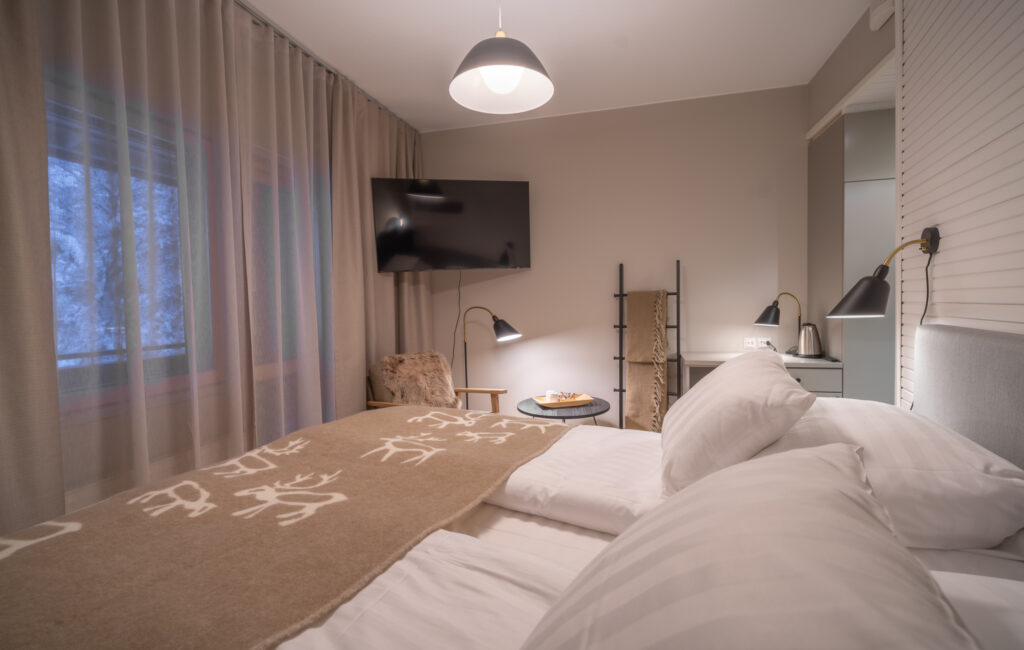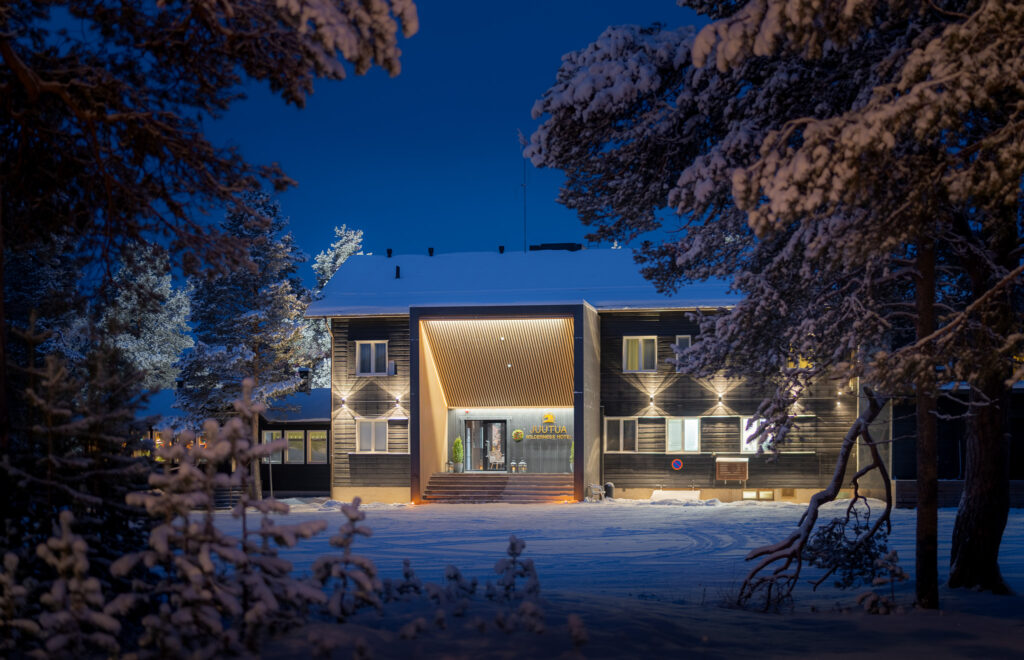 Snowmobiling
After breakfast head out into the wilderness on snowmobiles where a guide will teach you everything you need to know to enjoy a scenic trip taking in the stunning scenery around.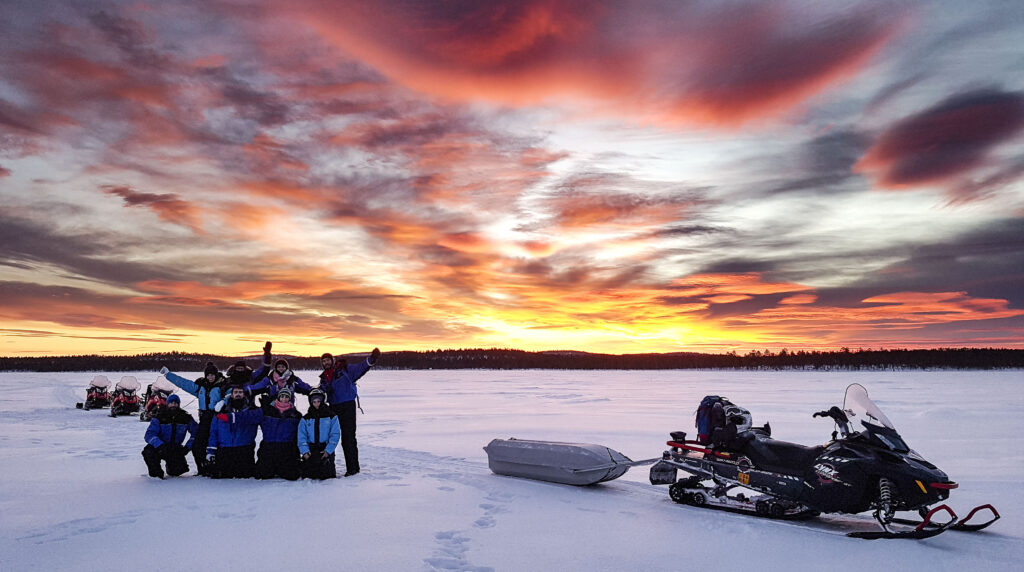 Husky Sledding
Today you will change things up from snowmobiles to the husky sledges – as you learn the art of mushing and get taken out for the day with your guide and team of dogs. In what is deemed as a 'must do' experience you will be shown around the husky farm before heading out on the two-man sledges.
In the evening you will try to catch the northern lights at one of the Aurora Camp spots where you will be comfortably seated in a sledg and pulled by a guide's snowmobile. There will be an open fire and warm drinks while waiting to see if the sky will show its magic.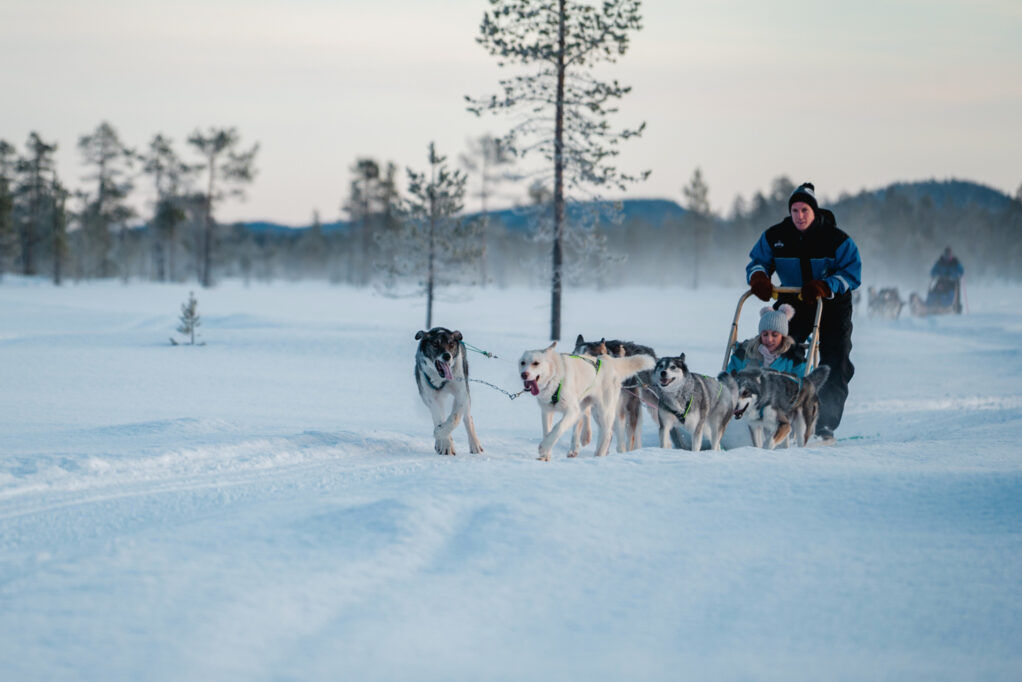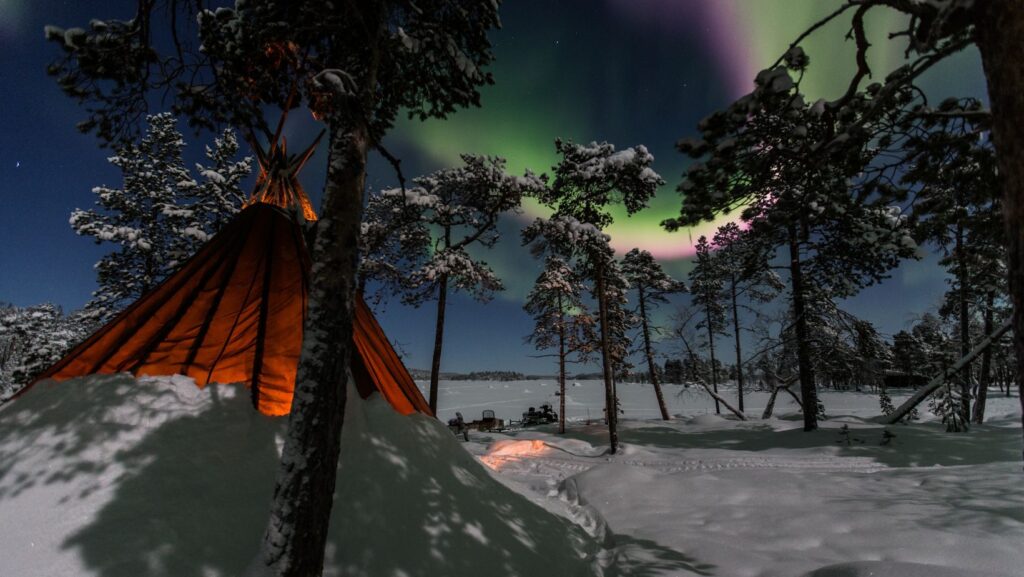 Snowshoeing
If you're looking for a leisurely stroll in a stunning snowy landscape, then this tour is perfect for you. We'll provide you with snowshoes and optional poles, and take you on a gentle walk through the picturesque surroundings of the hotel. As you meander through the snow, our knowledgeable guide will regale you with fascinating tales and information about the wonders of Finnish nature. With a focus on relaxation and enjoyment, this tour is ideal for anyone seeking a peaceful winter excursion.
Reindeers and 5 Course Dinners
On your final day, you'll get the opportunity to meet a genuine reindeer herder and his herd, where you can discover intriguing details about these semi-wild creatures and the way of life in the northern regions.
Then in the evening you will enjoy a special 5-Course dinner at the Aanaar restaurant where you will get to taste Lapland's seasons.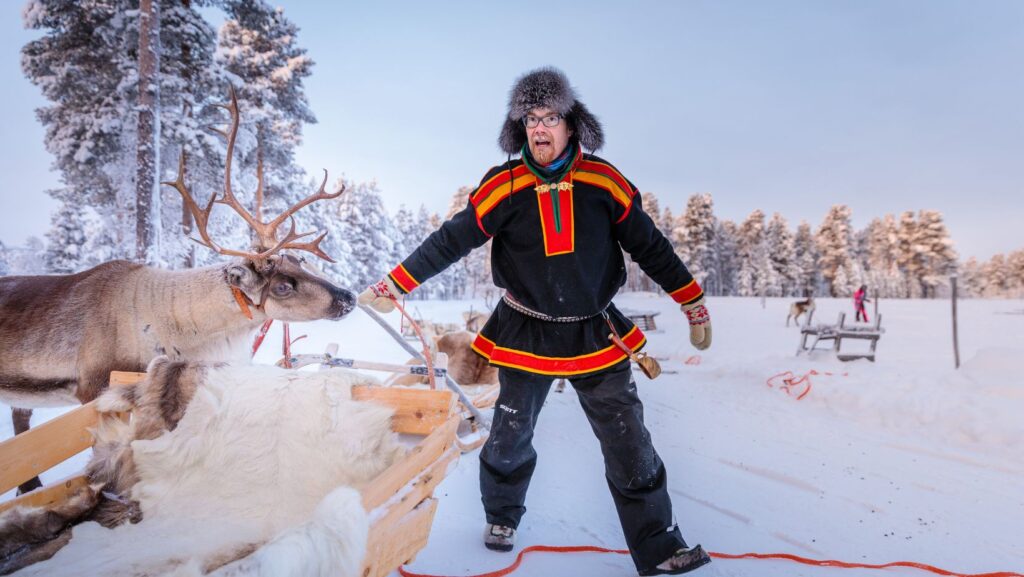 Departure Day
After breakfast you will get your flight back home – you have the option to extend your stay and explore further afield in Finnish Lapland – there are even options a special 6 night itinerary with added excursions included. Alternatively you might like to head back to Helsinki for a couple of nights too. Just speak to our team and we can get that organised for you.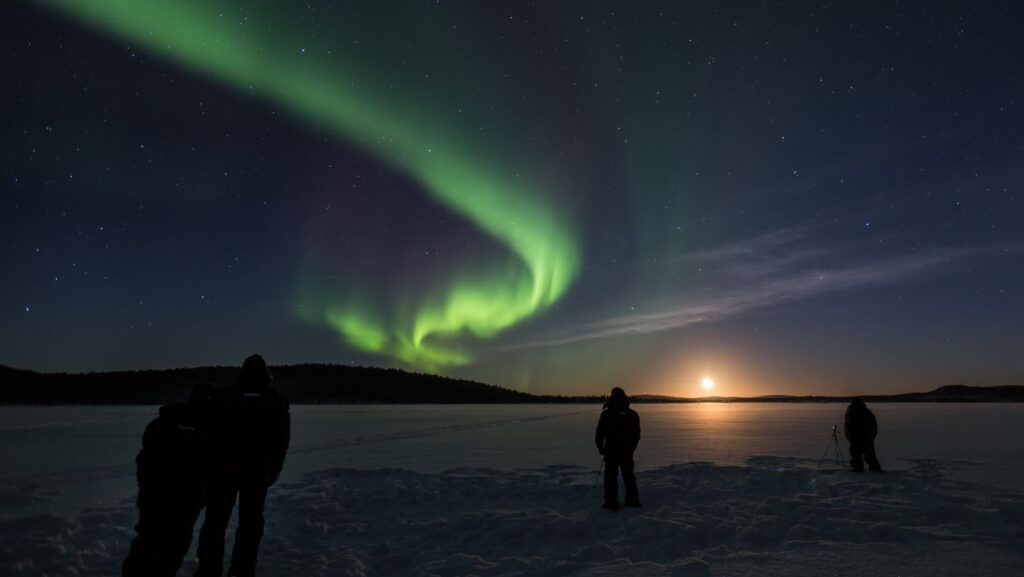 Make your dream holiday a reality
Simply get in touch by using one of the telephone numbers listed below, emailing us directly at [email protected], or using our contact form.