Lyngen Experience Lodge, located in Northern Norway, is a boutique lodge that offers a unique Arctic experience. Situated in the picturesque Lyngen Alps, the lodge provides a stunning natural backdrop of mountains, fjords, and Northern Lights.
Here we detail two types of trips that you can experience at the Lodge – firstly there is the Summer Experience and then the Winter Experience. These two suggested itineraries give you an idea of what you might like to get up to at the Lodge but we can also look at other options which include private transfers, and excursions along with extensions in Tromso and/or Oslo too.
Accommodation

Transfers

Excursions

Full Board
Your Summer adventure start here!
One you arrive in Tromso you will be transferred to our property, the Lyngen Experience Lodge, once you have settled into your rooms and had dinner you will get ready to head out on a special Midnight Sun hike to Lyngstuve Lighthouse.
Lyngstuva, located at the tip of the Lyngen Peninsula, offers a breathtaking panoramic view of Hamreffjorden, Vannøya, Reinøya, Ullsfjorden, Fugløysundet, and Lyngen. The 3-kilometre path from the car park to Lyngstuva is an easy trip, passing by Sami, Kven, and Norwegian cultural monuments.
Along the way, there are well-organized rest areas with gap huts, bonfires, tables, and benches, inviting you to pause and admire the scenery. At the trail's end, you'll find a charming small lighthouse and cabin, providing a beautiful panoramic view of the surrounding islands and fjords.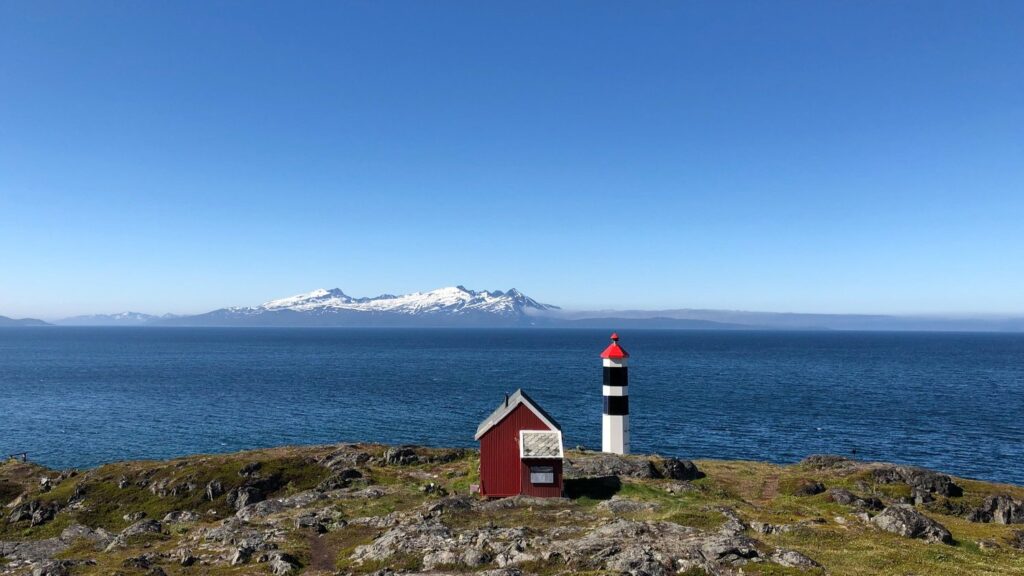 Sail and visit Uløya
We embark from the Nord Lenangen docks and set sail for approximately an hour and a half through the majestic fjords, until we reach the southern tip of Uløya Island at Havness. This breathtaking area is listed on Olavrose, a recognized catalogue of Norwegian heritage, and presents itself like an open museum that beautifully showcases Norway's northernmost trading post, which remains in operation to this day.
As we explore the enchanting island, it reveals a wealth of knowledge and history. We learn about the fascinating stockfish production and delve into the stories behind each building, some of which were constructed as early as the 1700s and still thrive with vitality. With a history dating back around 6,000 years, Havness has witnessed the passage of time and endured various chapters, including the German occupation during World War II.
During our visit, we have the privilege of savoring a prepacked lunch, all while enjoying a magnificent view and experiencing the island's unparalleled hospitality.
When you return in the afternoon you will have some time to relax or perhaps explore some further areas on foot.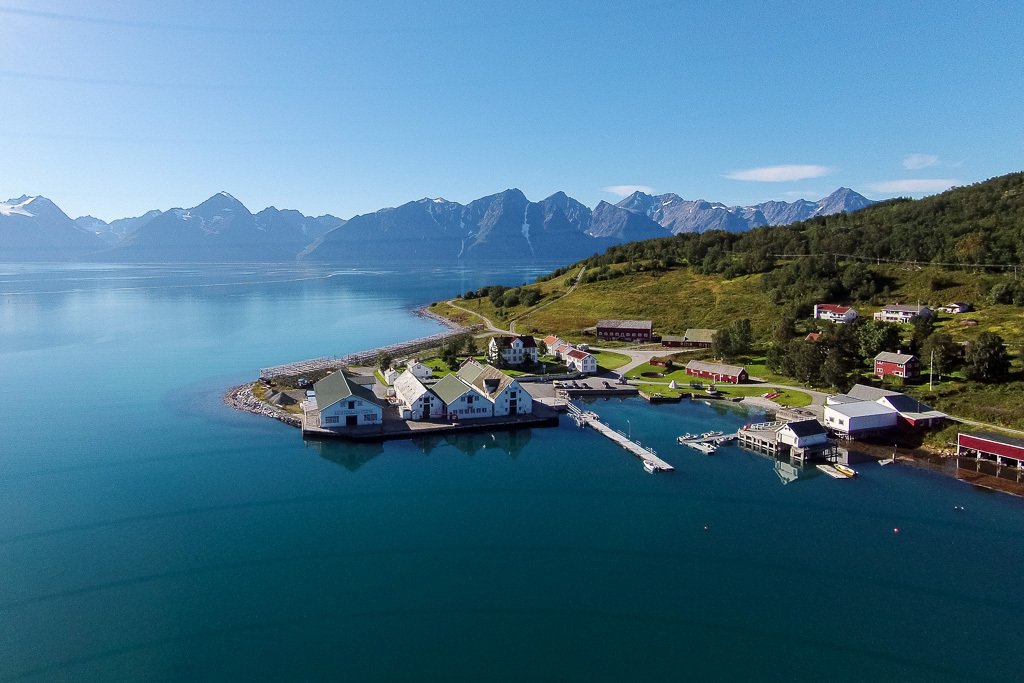 Hike to Blåisvatnet and Midnight Sun Boat Trip
Embark on a medium-intensity hike that leads you to a stunning lake boasting an intensely vibrant blue hue, proudly holding the title of the world's bluest lake. To begin our journey, we'll take a brief drive to Sør-Lenangen, situated at the base of the Lenangsbreen glacier.
From there, you will embark on a scenic hike which will be approximately 4 kilometres, ultimately arriving at the captivating lake. Once there, you'll savour some refreshing treats and, for the daring souls, an opportunity to take a dip in the invigorating, ice-cold water, which never exceeds a temperature of 4 degrees.
Then in the late evening take part in a brand new addition to the programme. Commencing at 10 PM, this expedition sets sail through the majestic fjord, gliding past the renowned Bird Island, also known as Fugløya, and ventures into the vast Barents Sea.
The duration of this adventure is approximately 3 to 4 hours, contingent upon the prevailing sea conditions. It offers a remarkable opportunity for passengers to indulge in both fjord sailing and the awe-inspiring spectacle of the midnight sun, creating an unforgettable experience.
Return back to Tromso
Have a leisurely morning before heading back to Tromso where you will pick up a flight back home or perhaps further afield – there is plenty to discover in this part of Norway so be sure to speak to one of the team if you would like to extend your stay whether that be in Northern Norway or in the country's capital Oslo.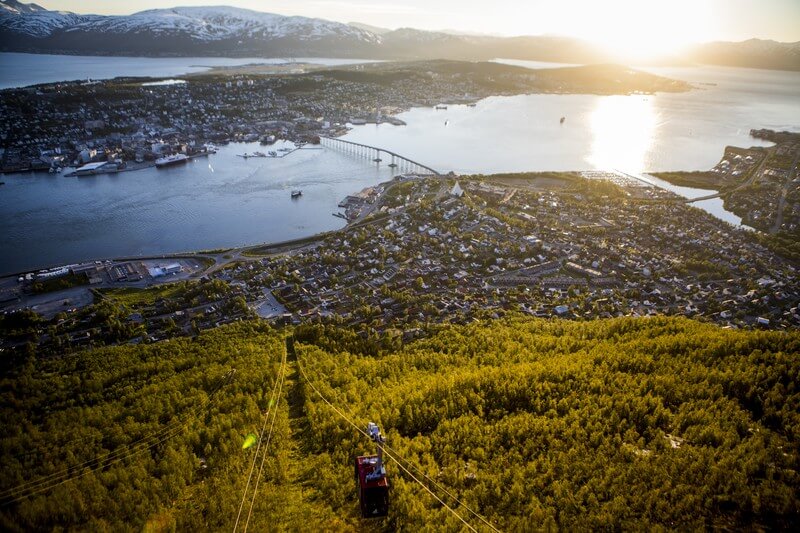 Your Winter adventure starts here
Transfer from Tromso to Lyngen Experience Lodge – nestled by the fjords and by this time of the season it will be immersed in snow. Take some time to explore your surroundings before having dinner and heading out on a Northern Lights excursion to see if you get lucky with the aurora.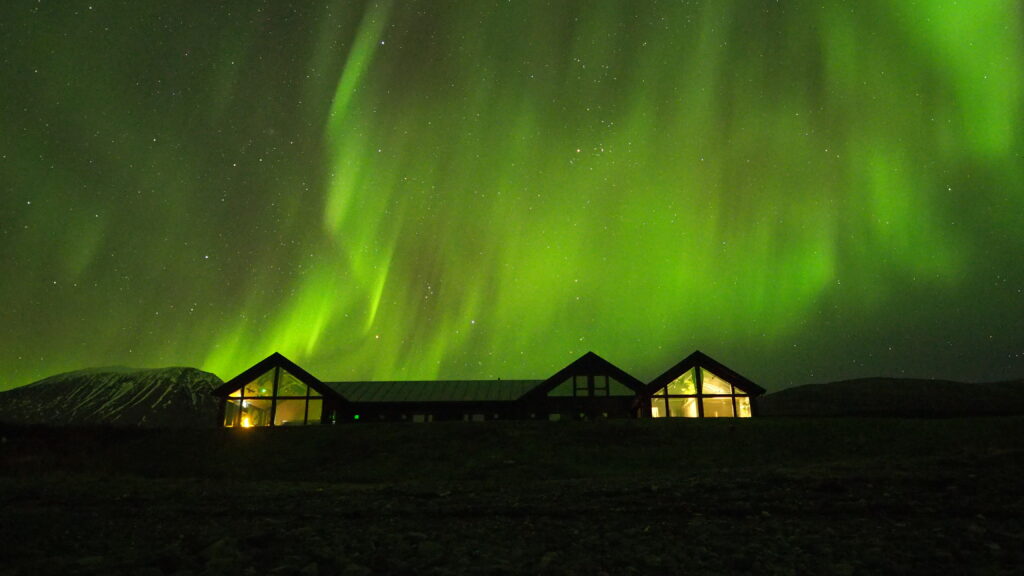 Dogsledding
Embark on an exclusive Arctic wilderness adventure with Tom-Frode Johansen's renowned team.
This unforgettable journey entails exploring diverse terrains within a majestic landscape. The duration of the trip is approximately 4-5 hours, during which we will assess daily where the optimal dog sledding experience can be provided. It's important to note that due to the length and challenging nature of the trails, participants should be in good physical condition. Along the way, we will take a brief break to build a fire, enjoy a cup of coffee, and indulge in some snacks.
Each individual will drive their own sled, accompanied by a small group of huskies leading the way. Prior to departure, you'll have the opportunity to assist with adjusting the harnesses and warmly greet our Alaskan huskies. A remarkable bond forms between the huskies and the sleigh riders. You will swiftly learn how to guide and communicate with them, and if there's one thing the huskies truly adore, it's running and receiving affectionate embraces.
Prepare for a journey where you'll experience the companionship of animals, breathtaking landscapes, and awe-inspiring vistas amidst the heart of the Lyngen Alps.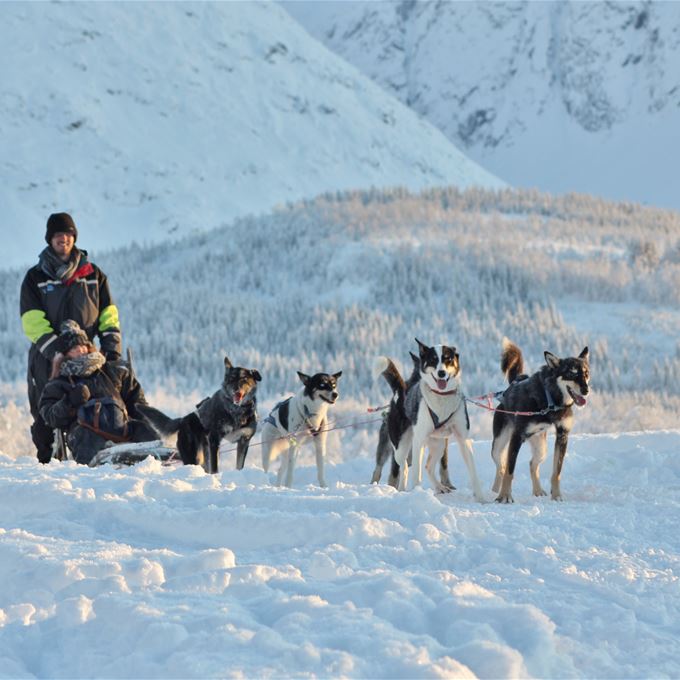 Snowmobiling and Aurora Hut
Experience the thrill of a snowmobile safari in the stunning outer Lyngen region, embraced by the majestic Lyngen Alps.
Embark on a thrilling journey as you traverse the snowmobile trail, ascending the mountain. The trail commences with gentle and level paths, providing the perfect opportunity to familiarise yourself with the snowmobile and unleash its potential for exploring this captivating wilderness.
Throughout the expedition, numerous stops will be made, allowing you to capture breathtaking photographs or simply immerse yourself in the awe-inspiring beauty of nature's landscapes.
Witnessing the grandeur of the Alps while being in such close proximity to the sea is an extraordinary and impactful encounter.
Embrace the adventure in pairs, with the option to switch drivers midway if desired, ensuring everyone can savor the excitement of being at the helm.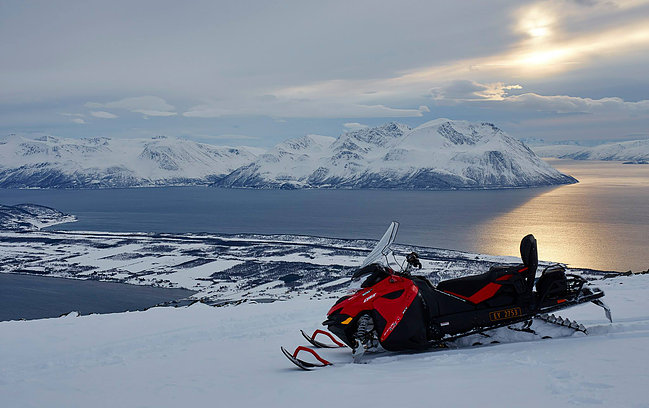 Return back to Tromso
Enjoy a relaxed morning by further exploring the surroundings on snowshoes. Afterwards, return to Tromso, where you can catch a flight back home or venture to other destinations. There is an abundance of places awaiting you in this region of Norway, so make sure to reach out to one of our team members if you wish to extend your stay, whether it's in Northern Norway or the country's capital, Oslo.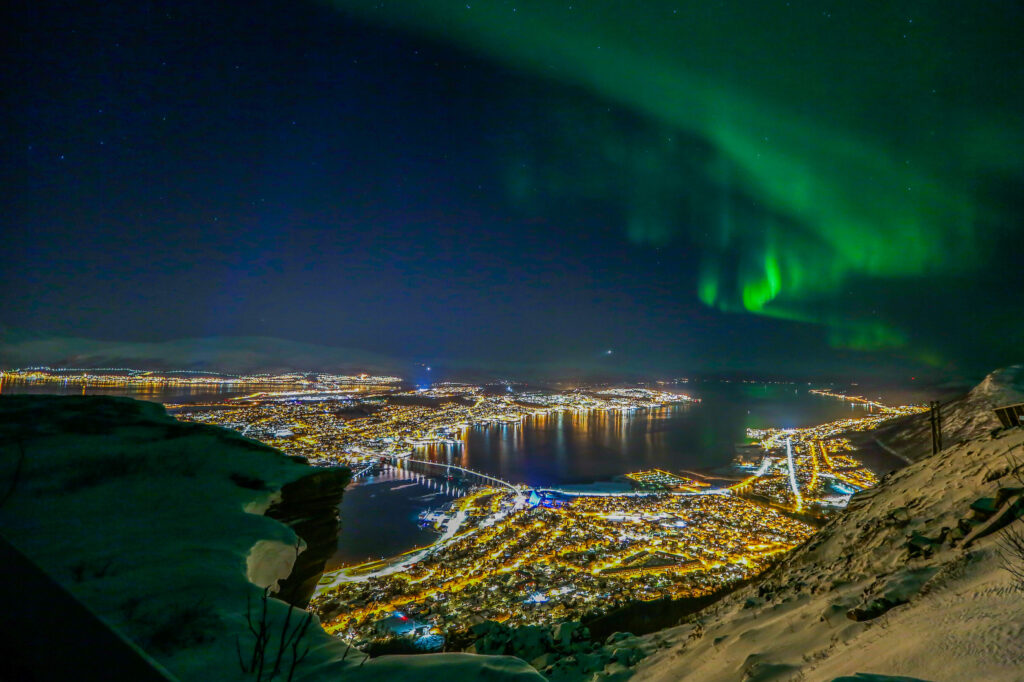 Make your dream holiday a reality
Simply get in touch by using one of the telephone numbers listed below, emailing us directly at [email protected], or using our contact form.